Recession. The ugliest game of will they won't they nobody wants to play.
Is it coming? Is it not? Will it be mild or crack the sky?
For property owners, it's a crucial question. The amount of variable expenses, from utility costs to the material prices of retrofits, can catastrophically impact their bottom line. At one extreme, you have Bloomberg Economics who says the likelihood of a recession in 2023 is 100%. Then, there is Jon Turek of JST Advisors, who puts the risk at just 35% and predicts that if it happens at all, a recession won't hit at least until the last quarter of the year. Some economists say there is a 70% likelihood of recession in 2023. "While it is possible for some areas to avoid a national recession altogether, most local economies will experience at least some pain, and this pain could persist for years." (Forbes).
So how likely is a recession? While there's no solid consensus, the possibility of a recession throws a shadow over the decisions we make now and creates an economic environment that is tricky for property owners to navigate.
What we do know
Regardless of where your opinion lands on the spectrum, the U.S. is facing financial implications in this post-pandemic world. Experts can't seem to agree on the likelihood of a recession, but they do agree it would last at least 12 months.  It's no wonder, with all the variables to consider:
Inflation
Fluctuating seasonal energy demand
Global energy supply uncertainty as the Russia-Ukraine war drags on
Then add in the typical adjustment factors, like vendor rate changes and usage changes from asset conditions, and you begin to see the interconnected web of property-affecting economic forces that forecasters have to contend with.
While the Federal Reserve would like to avoid a recession, its policies put a higher priority on cooling inflation. Fed interest rate hikes have slowed the rate of inflation, but the December inflation rate of 6.5% is still well above its target rate of 2%. The Fed has indicated it will continue increasing its benchmark federal funds rate (currently at 4.33%) to 5% or higher for the foreseeable future.
As CNN noted, "Nothing kills demand for oil – and brings down prices faster – than recessions." Recessions prompt layoffs, reduce travel, and curtail consumer spending, all of which lowers energy demand and prices. It also affects vacancy rates, rent hikes, and overhead tolerance for renters. Even as economic forces are driving rents higher, consumers contending with the rising costs of goods are changing their rental habits, settling for lower cost options, investing in manufactured housing, and cohabitating.
But wait – there's more. Even as the threat of a recession pressures oil and energy prices to drop, the Ukraine war and severe weather are driving them up. For example, as Jamison Cocklin, Senior Editor of Natural GasIntelligence, put it, "Severe cold in the northern hemisphere that would boost demand in North America and lead to a protracted battle for cargoes between Asia and Europe would likely push major benchmarks higher given how interconnected the global gas market has become." Proof of that volatility came last December when a severe cold snap caused wholesale power prices to jump more than 6,000% in parts of the United States. Expect continued volatility – and build that into your forecast.
Ignorance is always dicey, but real estate industry leaders across all verticals must brace themselves and adjust expense forecasts for 2023 and beyond. If economists can't agree on whether a recession is definite or not, how will your expense projections be any more certain? How can property owners reduce costs effectively?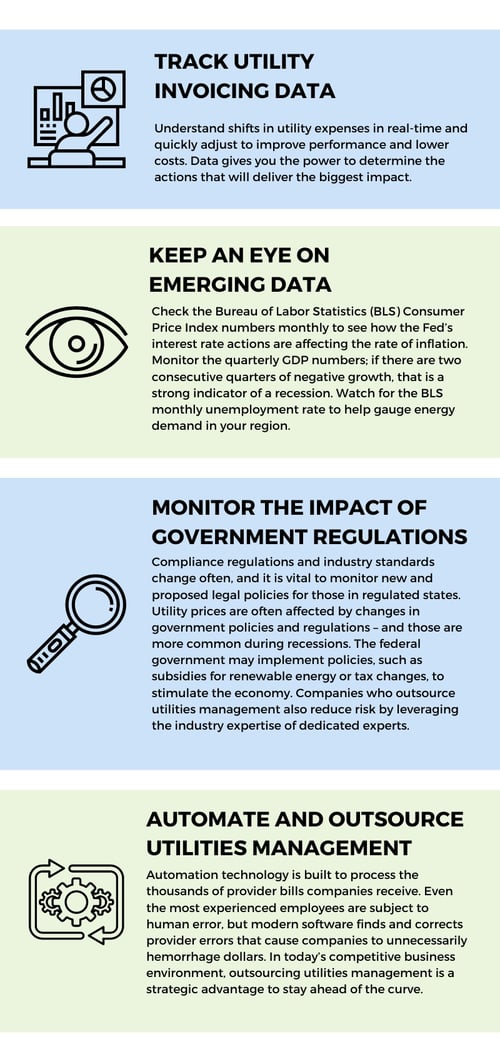 Utilities costs are your hidden margin 
Utilities are among the top three highest expenses for operating a business. While typically regarded as a normal and forgettable overhead cost, an inefficiency at any level can create systemic issues that hamper growth and bleed profits–especially when their future prices are as volatile as they are right now.
So if your goal is to tend the garden you can actually touch, an excellent way to plan for future volatility and uncertain market forces is to secure gains in the areas of your business that remain relatively predictable. By reducing utility expenses now, you'll be better prepared for a possible pricing hike later.
Ask The Utility Experts
Keeping the lights is not only necessary for quality of life. It is non negotiable for business.  Utilities are our sole focus. Whatever community you manage or property you own, utility management unlocks savings that protect your bottom line and provides peace of mind no matter what the future holds.
We think you'll also find these resources helpful:
When the future is uncertain, we stay alert and informed. Conservice is here as your go-to resource. Now is the time for real estate owners and managers to conserve resources and reduce costs through software-enabled utility management services. Conservice will be your trusted partner – no matter which way the economy turns.
Managed Utilities | Sustainable Growth
Learn more from one of our Experts!
About Conservice
At Conservice, we have one focus: utilities. Whether that means paying your utility bills, supporting your residents and tenants, or organizing your usage data to support business growth and ESG initiatives, we are the only national utility management company that focuses entirely and exclusively on utility services. Your utilities are our number one priority; all day, every day of the year. This is why our clients count on us to be The Utility Experts®. Learn more at conservice.com.
Subscribe. Learn. Stay Ahead.