Recession who?
The Student Housing industry is thriving.
Good news! While inflation and rising interest rates have modestly slowed down the new development pipeline, student housing rent is healthy and demand just reached a record high at the end of 2022.
Overall university enrollment is down 3.5% from 2020. This sad fact is offset, however, by the fact that more and more students are choosing to live on university campuses post-pandemic. Pre-leasing and renewal rates have already soared to over 96% of beds filled for the 2023-2024 school year. For context, property managers are typically scrambling this time of year to execute their final pre-leasing push before the summer.
Student's Living Differently
The trend of upperclassmen moving to off campus apartments is changing as the industry adapts alongside changing student preferences. Post-covid, students crave a sense of community. Student housing retention is increasing as convenient (yet notoriously crappy) accommodations are traded out for inviting, communal spaces with upscale amenities.
Even with the shadow of a recession on the horizon, the student housing market won't be slowing down. And Student Turn Season is just months away, which means property managers are in their busiest season yet.
So between growth around the corner, skyrocketing student interest, and a looming Turn Season, how can student housing teams continue to carry a diverse load of responsibilities while creating efficiencies and processes that protect and grow the bottom line for their properties?
Uproot Utility Inefficiencies, Take Back Your Time
Utilities are one of the top three highest expenses for operating any business. And when fielding thousands of individual bills, it's nearly impossible to do so without creating human errors or stumbling across utility provider mistakes (which occur, nationally, almost 20% of the time).
Effective utility management for student housing apartments requires two things: 1) Processing and then paying utility provider bills, and then 2) ensuring the expenses are billed back to the students. These two steps can get tricky, however, when there are multiple residents to a unit or when residents move rooms.
Talk about a time suck.
The Increasingly Popular Choice? Managed Utilities
Managed utilities have become Student Housing's key to keeping tabs on utility usage, savings opportunities, and sustainability efforts. In a nutshell, managed-utilities is a service wherein a vendor or partner is empowered to oversee ALL of the day-to-day utility management tasks that are relevant to your business. Managed-utility providers handle changes of responsibility, collect payments from students, and audit provider bills for errors. Seamless integration between your properties and your managed-utilities vendor ensures data flows seamlessly from system to system, keeping rent roll information up to date.
The best part? You're free to put your resources elsewhere. Laser-focused utility expertise removes the burden of tedious tasks during the busiest times of year.
A Shameless Plug with Deep Insight 
Last year, Conservice Utility Experts™ fielded 18,033 resident phone calls and 4,352 resident chat messages for our customers.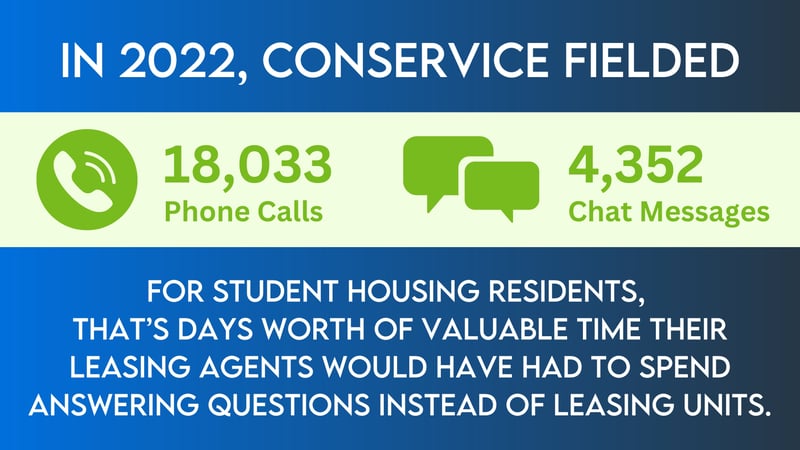 Those were all calls and chat messages that businesses DIDN'T have to ingest or resolve. On the back end, we were able to collate the ocean of usage data behind all of that support into practical insight that our customers were able to leverage when directing the growth of their business. Miles Orth, EVP & COO of Campus Apartments says it best. "For us it's all about the data. Receiving it and then using it to be able to make decisions. What sets Conservice apart in my opinion is the depth of relationship."
About Conservice
At Conservice, we have one focus: utilities. Whether that means paying your utility bills, supporting your residents and tenants, or organizing your usage data to support business growth and ESG initiatives, we are the only national utility management company that focuses entirely and exclusively on utility services. Your utilities are our number one priority; all day, every day of the year. This is why our clients count on us to be The Utility Experts®. Learn more at conservice.com.
Subscribe. Learn. Stay Ahead.